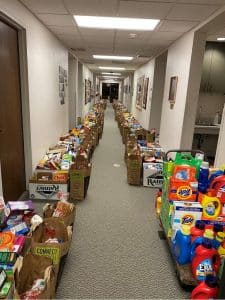 Updated, November 20
This year's Christmas Food Baskets are more important than ever, as many of our neighbors struggle due to the pandemic. We will collect non-perishable food and personal care items starting November 27. If you are coming to the STA campus, you can bring your food donations and put them in the brown bins as usual, this may not be safe for some members of our community due to health or other restrictions. Therefore we will offer three other ways you can help while keeping your exposure to other people low.
There will be a Donation Drive-Through Event on Sunday, December 13 from 11:30 AM until 1:30 PM. Just drive up to the main entrance of the church and volunteers will unload your donations from your trunk!
There will be empty boxes available in the gathering space to be "checked out" starting November 24. Each box will have an attached list of groceries with which to fill it. Filled boxes should be brought back to church by December 17.
Financial donations are always welcome. Checks should be made payable to St. Thomas Aquinas Catholic Church, with the notation "Christmas Food Baskets" in the memo line, or you can donate using a credit card or PayPal via the Donate button at stamadison.org/donate/.  If you use the Donate button, please be sure to make a note with your donation that it is for the Christmas Food Baskets. In addition, on Giving Tuesday, December 1, you can support the Christmas Baskets, as well as the parish conference of the Society of St. Vincent de Paul, and have your donation matched dollar for dollar up to $21,500.  More information is available at https://stamadison.org/helping-the-helpers-2020/.
In order to comply with Public Health Madison Dane County Order #10, Christmas Basket packing will be done in single-family shifts on Thursday, December 17, and Friday, December 18. There will be three one-hour shifts each day, starting at 1:00 PM, 3:00 PM, and 5:00 PM.  Each shift will be limited to members of a single family.  If necessary, we will consider adding additional shifts.  You can sign up to pack at SignUpGenius.com, https://signupgenius.com/go/10C0D4BAFAD23A5F5C16-sorting.
Delivery will be Saturday, December 19, starting at 9:00 AM. Deliveries will be made by dropping boxes off at the entrances to homes, without direct contact.  Sign-up sheets for deliveries will be in the Gathering Area.
Thank you for your generous donation of these items:
canned fruits
canned vegetables
cereal
peanut butter
canned juice
soup
macaroni and cheese
pasta/rice
canned meals/spaghetti/ravioli
laundry detergent
shampoo
toothpaste