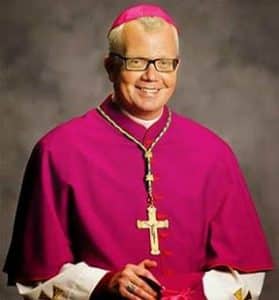 St. Thomas Aquinas announces with great joy the appointment by His Holiness, Pope Francis, of the Most Reverend Donald J. Hying as the fifth Bishop of the Diocese of Madison. Bishop-Elect Hying was born in West Allis, Wisconsin, was ordained to the priesthood and served at parishes in the Archdiocese of Milwaukee, served at La Sagrada Familia Parroquia in the Dominican Republic, and was Dean of Formation and rector of St. Francis de Sales Seminary. In 2011 Pope Benedict XVI appointed him Auxiliary Bishop of the Archdiocese of Milwaukee, and in 2014 Pope Francis appointed him Bishop of the Diocese of Gary, Indiana.
The date of Bishop Hying's installation will be announced later.
The Diocese of Madison has published a biography of Bishop Hying and description of his personal coat of arms.